"

This is good coffee — Al Pacino

Pacino's Cafe is family owned and prides itself on quality cuisine and great Italian Vittoria Coffee at honest prices. Open for breakfast and lunch, Pacino's Cafe offers an enjoyable dining experience. Located in the heart of Shellharbour village. Pacino's Cafe is less than a 5 minute walk to the beach.

Open for breakfast & lunch 7 days a week. Serving breakfast from 7am and lunch from 11.30am.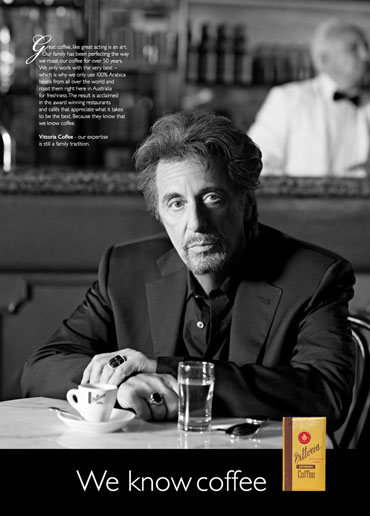 Al Pacino & Vittoria Coffee
As one of the biggest pure coffee companies in Australia and after over fifty years of roasting, Vittoria Coffee holds the only endorsement deal with Al Pacino. With his Italian migrant background Vittoria found the 70-year-old Academy Award winner felt like a true ambassador for the brand. Al was equally excited, as he puts it: "There are two things I know about. I'm confident to say one is coffee. The other… I forget."
Through the series of short 30-second advertisements, each commercial starts with the morning ritual of Pacino as he heads for his wake up shot of Vittoria espresso, followed by unscripted dialogue spoken by Pacino himself. "We didn't give Al scripts" says Rolando. "It's the first time he's done an ad his entire life so he and we want it to be authentic… He wants to make it special… done in the right way."
Employment
Positions: Wait Staff, Barista, Kitchen Hand, Chef / Cook
We look for staff that are highly organised, self motivated, can present themselves in a professional manner, and are able to work flexible hours.
If you are interested in being a part of our team please email your CV to info@pacinoscafe.com.au or bring it to the cafe.